Founded in 1963, McLaren Group is an organisation with one goal: to win. McLaren Racing entered its first Formula 1 race in 1966 and won its first Grand Prix in 1968. More than 40 years and 181 Grand Prix victories later, McLaren is still renowned as one of the sport's most successful competitors and as one of the world's most illustrious high-technology brands.
McLaren store at www.mclarenstore.com is no different. It is for the winners, whether you are looking for an exclusive piece of clothing or an exciting DVD.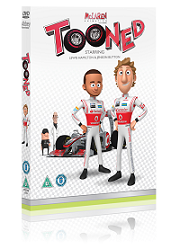 Are you ready to race? This DVD includes all 12 episodes from the first season of TOONED plus go behind the scenes and learn about 'The Making Of' this hit new animation in a special feature. As a bonus, you'll hear about the inspiration behind the series in an interview with Ron Dennis.
Note: This is Region 0 (PAL) DVD. It may not be viewable in the USA & Japan, unless you have a multi-region DVD player.
For more information visit www.mclarenstore.com
To enter the competition, please answer the following question:
How many episodes TOONED DVD has?
If your name is pulled out of the hat, this DVD will be yours!
Closing date: Thursday, 31st January 2013