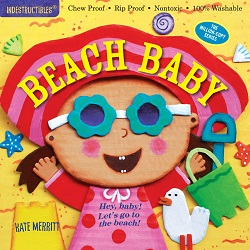 The bestselling American book series, Indestructibles® have finally landed on British shores. Launching for the first time in the UK, these books are built for the way your baby reads with their mouth, hands and toes. These ground-breaking new books are impossible to tear, are gum proof, waterproof, nontoxic, light weight and washable!
Sure to delight both parents and babies alike, the arrival of this colourful seventeen book series has been marked by a fantastic new addition to the Indestructibles® range, Beach Baby. With large bright illustrations by artist Kate Merritt and simple easy to see text Beach Baby is sure to become a favourite in your baby's toy box.
Follow a family on a trip to the seaside, point out what's on the beach, ask what's for lunch and look at what is inside their beach bag. Enjoy the text and illustrations to read together and also let your baby hold, grab, chew, pull and bend.
Best of all, Beach baby can follow you on your own trip to the seaside. Simply pop Beach Baby into your bag and it will withstand a day on the beach, or in the garden – it really is indestructible. 100% safe and washable, if the book gets dirty, just throw it in the dishwasher or rinse it in the sink, and voilà, the book is ready for more.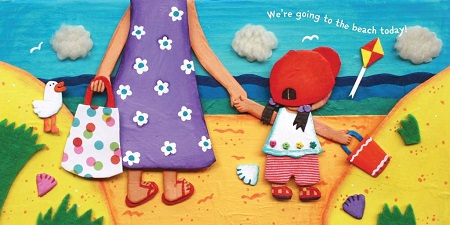 Competition Time!
To celebrate the release of Beach Baby we have three copies to giveaway. Use the widget or link below to enter, simply answer the question or/and choose any other way to enter our competition. You could use all the possible ways to enter, it will increase your chance of winning!