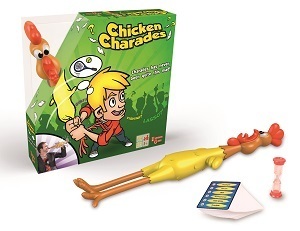 If it's a crazy, fun, fast-paced family game you're after, there's only one to choose and it includes one squeaky chicken, 1,000+ charades, one dice, and one 10-second timer!
In the hilarious and lightning fast game of Chicken Charades from University Games you only need two things – you've got to be fast (you only have 10 seconds) and you have to use a squeaky chicken to act out your word.
The aim of the game is simple – be the first team to earn 10 points. Once the teams have decided which colour charade cards they will play with (green or red),team members roll the dice in turn. The number that is rolled has a corresponding word on the coloured card and that player has 10 seconds to act out the word – with a twist – they must use the squeaky chicken to help act it out!
The pressure is on as the timer is set and the team has just 10 seconds to guess the answer correctly. Carnage ensues as anything goes in this game! If their other team members don't guess the word correctly then the other team gets a guess. If they get it right the point (and the card) is theirs. Simple! Teams play alternately, until one team reaches the 10 points and are crowned the winners.
Players can even make up their own rules… it really is that mad!!
Chicken Charades by University Games is recommended for ages 8+. 3+ players with RRP £19.99.
Competition Time!
M&D magazine has one Chicken Charades from University Games up for grabs for our readers. To have a chance to win this entertaining game enter through the widget below. You can use all available options, it will give you a grater chance of winning.