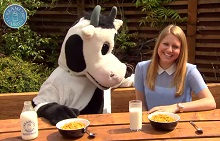 Helping Greater Manchester Mums and Dads spread the word about the importance of drinking milk, Creamline Dairies (www.creamline.co.uk) has teamed up with Channel 5's Milkshake presenter Olivia Birchenough, to produce a lively educational video about milk's journey from the cow to the breakfast table.
Officially released to mark the launch of World School Milk Day (24th September), Creamline created the video to give children an insight into the local Cheshire farmers that Creamline work so closely with, calling on Farmer Tom to help them along the way!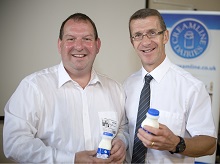 Taking the message straight to the classroom to celebrate World School Milk Day, Creamline treated Didsbury C of E school to an exclusive preview of the video, with Creamline's milkman Jon Ryan joining in the school's assembly to take the children through milk's many nutritional benefits, as well as fascinating facts about cows!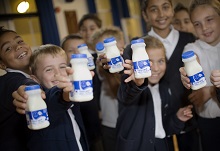 Now available to view on Creamline's newly refreshed website- http://www.creamline.co.uk/videos – as well as its YouTube channel, the video will be viewed by children across the county, with Creamline set to announce a number of primary school appearances in the next few weeks- watch this space for more information!
Creamline Competition *
Creamline has extended its online delivery service – Creamline Online – to serve even more households across the Cheshire and Greater Manchester area. To celebrate these new services Creamline is offering one lucky person the chance to win a delicious hamper, full of tasty treats to make the perfect breakfast.
To enter, simply watch the clip and let us know what colour Farmer Tom's tractor is:
A- Red
B- Blue
C- Green
Closing date: Thursday, 6th November 2014
* Entrants to the competition must live within the Greater Manchester area