The little red box that goes a long way!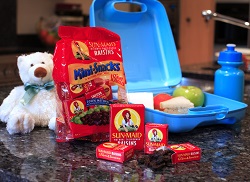 September's arrived and the kids are back to school; so amongst all the uniform and stationary shopping is one of the hardest tasks of them all, the lunch box filling! There's nothing harder than satisfying the taste buds of our little darlings whilst also ensuring a healthy diet. Thankfully help is on hand from iconic Californian brand, Sun-Maid, with their naturally tasty, healthy raisins.
Unlike other brands, Sun-Maid Raisins are 100% natural with no added sugars, preservatives or glazing agents. Luscious ripe grapes and a lot of sunshine go into creating these tasty treats that are a healthy alternative to sweets and crisps in children's lunchboxes. They are also a great way to ensure your kids are filling up on their fruit, counting as one of their 5 a day.
To find out more about Sun-Maid's products visit www.sunmaid.co.uk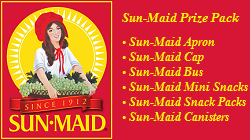 Sun-Maid is offering you the chance to win a package of Sun Maid treats and goodies! The prize worth £40 will be filled up of their finest products ensuring it's not just the kids who get to enjoy a delicious lunch time treat.
For your chance to win, simply answer this question:
What are the main ingredients used in Sun-Maid's scrumptious raisins?
A) Grapes and Sunshine
B) Sugar and Water
C) Additives and Preservatives
Closing date: Monday, 11th November 2013