Courtesy of HOME Manchester, Mums & Dads magazine is delighted to offer a set of family tickets for the 10am performance on Saturday 24 January at Number One First Street, in Manchester city centre, of The Tongue Twister, part of HOME's annual Re:play Festival.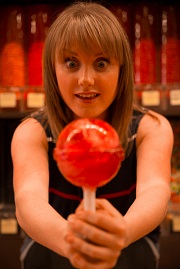 Written by Luke Walker, directed by Alyx Tole, and presented by Red Lolly, The Tongue Twister tells the story of Plug, who arrives in a new town to discover that rhyming is forbidden, and the punishment, from the feared and mythical Tongue Twister, is to be silenced forever. But when Plug is handed a magical red lolly by the mysterious sweet shop owner, he begins to rhyme – all of the time!
Suitable for everyone aged eight plus, The Tongue Twister is an ode to poetry, love, and imagination.
To win a set of family tickets (two adults, two children), worth £24, simply answer who is the main character in The Tongue Twister and send us your answer and details, and if your name is pulled out of the Mums & Dads Santa hat, the prize is yours!
Entries must arrive no later than 12noon on Monday 12 January. Extra children's tickets can be purchased for £5.
To find out more about the play, watch the trailer: