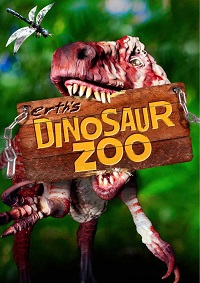 Win a family ticket to Erth's Dinosaur Zoo on Fri 4 October 1pm at The Lowry, Salford. A family, of up to 4 people will have a chance to see the show which brings these awesome pre-historic creatures to the stage as you've never seen them before!
From cute baby dinos to teeth-gnashing giants, meet the most recent addition to the Dinosaur Zoo, a carnivorous theropod known as the Australovenator, the most complete meat-eating dinosaur skeleton yet found in Australia.
Observe these extraordinary life-like dinosaurs and watch them behave and move just like they really did – millions of years ago! But watch out – not all of these Jurassic giants are as tame as they seem!
The closest you can get to watching real dinosaurs.
Dinosaur Zoo is at The Lowry Fri 4 & Sat 5 October
Visit thelowry.com/family for more information.
If you'd like to try your luck in winning this competition please choose the right answer the question below and send your entries with clearly marked name, address and telephone number to M&D Magazine, Didsbury, Manchester, M20 2SX or send it through the form below.
Closing date: Friday, 27th September 2013
Question: Which of these blockbuster movies featured dinosaurs?
A: Jurassic Park
B: Chicken Little
C: Mary Poppins