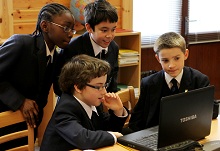 Your child's move from junior to senior school can be both exciting and daunting. As they leave their small, nurturing environment to join a much larger one, they suddenly encounter many new teachers and have to navigate around a more extensive site. Thankfully, senior schools are experienced in making this transition an easy one, providing useful information evenings and cherry-picking their Year 7 tutors for their fun and patience.
As your child will experience a greater level of independence, they will need to be well organised. Some children need assistance in establishing a daily routine. For the first couple of weeks you may have to supervise the 'packing of the bag'. Once homework is complete then books and equipment can be packed for the next day. It is good to develop a routine for homework; life can be a constant 'nag' if you don't start this from the beginning. Provide a quiet space free from distractions and agree that television, computer games, etc, will only be possible after homework is done. There will be a myriad of activities and clubs on offer; it's important that they get involved from the start, particularly with sports teams, as often it's difficult to be selected after the initial trials.
Talk to your child about friendships and using this transition as an opportunity to make new friends, rather than just socialising with established ones. Advise them to speak to their form teacher and prefects if they have an issue, rather than coming home and wanting you to intervene. Reassure them that odd blips in the first few weeks are natural and teachers will always make allowances.
Getting to school can be a worry and a trial run on public transport can be reassuring. If walking to school, encourage them to try the route out with a friend. Parents often miss the 'school gate' community of a junior school. Taking part in the school's social events and joining parents' groups can fill this gap.
A successful school career is a three way partnership between school, pupil and parent. With the correct approach from the beginning your child will thrive and flourish during the next exciting stage of their education.