Colourstrings is coming to Greater Manchester and Cheshire. A part of musical education in state schools in Finland and popular choice of private musical education for ambitious parents in London and Glasgow, Colourstring doesn't seem to be well known in the North-West of England. Now it is all going to change with the first Colourstrings project about to start in Trafford. It will be run by Melanie Jones a professional cellist, teacher and performer, who has answered some questions for M&D Magazine.
Q. What is Colourstrings?
A. It is a child-centred approach to educating youngsters musically and instrumentally. It has been developed for the violin, viola, cello, double bass, guitar and flute. It gives every child a firm musical foundation from the beginning of their learning, which is stimulating and fun. The originators of Colourstrings are Hungarian brothers, Geza and Csaba Szilvay. Together they revolutionised music education to such an extent that Colourstrings is now a major part of Finland's state school music system. It is driven by inspiring concepts and has achieved an outstanding reputation for the success of its students and skills of its educators.
Q. What does Colourstrings do for the child?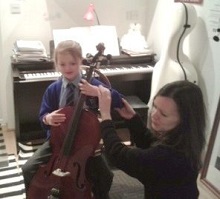 A. Every child receives a 'musical parcel' that embraces musical expression, technical skills, ear training (singing), and a deep understanding of the music they play. The early aspects of the child's musicianship (awareness of pulse, rhythm, inner-hearing, harmony, melody) are also developed. Colourstrings allows the child to learn at their own pace, therefore enabling their confidence to grow further. More benefits include creative and mathematical thinking, power of concentration, increased listening skills and feeling rewarded.
Q. So how does the child learn?
A. Each string is represented by a different colour in the Colourstrings books. Using left hand plucking and natural harmonics the child learns to play in all areas of each string. Basic bow technique is introduced and gradually developed. As a result the child achieves a quality way of playing the instrument, which can then be further refined.
Melanie Jones was trained in Colourstrings by Mr. Csaba Szilvay. She is a graduate of Chethams, the RNCM and the San Francisco Conservatory (USA). She teaches young cellists in Saddleworth, and is now bringing Cello Colourstrings to the Trafford area for students aged 5 and above. Trial lessons are available (cellos & books provided).
Please call Melanie on 0790 661 4526 or visit colourstringsmusic.com.
If you want to learn more about Colourstrings visit www.colourstrings.co.uk