"You mustn't come into the place saying you want to know, you know!" Charles Dickens – "Little Dorrit"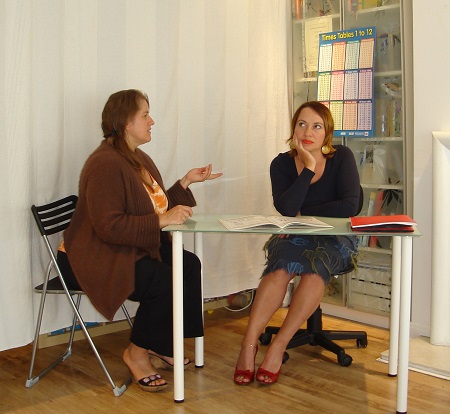 The teacher said that our younger daughter was "a delight to teach; willing and eager to learn and always tried very hard at everything", but then suggested that her handwriting often let her down!  I checked some of her books and there was no doubt her handwriting needed improving, so I asked the teacher what she planned to do to bring that about.  My wife, a teacher herself, scowled a warning!  The teacher looked at me blankly!  I asked again and receiving no response, I ventured one or two basic handwriting exercises which might help to develop more control and skill. Receiving only glares from the teacher and my wife, I then suggested several more strategies. To cut a long story short, I was reported to the Head as having acted unfairly toward the teacher, and my wife suggested that I should let her attend future parents' evenings on her own!  Today, I think most parents would expect, and probably get, a better answer to the question than I did!
Headteachers are now responsible for sending a written report to parents on their child's achievements at least once during the school year. Schools can issue more than one report, provided that the minimum information is sent to parents by the end of the summer term.  Where information, such as the results of National Curriculum assessments, is not available before the end of the summer term, headteachers must ensure that it is sent to parents as soon as practicable, and in any case, no later than 30 September.  As a minimum, primary school reports should contain:
Brief comments of a pupil's progress in each subject and activity studied as part of the school curriculum. These should highlight

strengths and development needs

, and should include results of any national curriculum tests, by level, when these have been taken.
The pupil's general progress.
A summary of the pupil's attendance record during the period to which the information in the report relates.
Comparative information about the National Curriculum levels of attainment of pupils of the same age in the school
Comparative information about the National Curriculum levels of attainment in the core subjects of pupils of the same age nationally.
Arrangements for parents to discuss the report with a teacher at the school.
Among other discretions, Headteachers may also include in the report additional information about the pupil's progress, beyond the minimum required.  The law also requires that parents should have access to the educational record for the pupil if they request it in writing.  Parents may also request, 'at all reasonable times', access to information relating to the school curriculum.  So the rights of parents to information about the curriculum taught and their children's attainment and progress is enshrined in law and for very good reasons.  Research indicates that of all the strategies designed to improve pupil's attainment, 'parental involvement in children's learning' was the one producing most evidence that it actually worked.
A recent survey of parental involvement in their children's education tells us that most parents seek to helpwith reading and homework and that mothers are far more likely to become involved in the school than fathers. Schools whichsuccessfully involve parents also realise the importance of extended family networks and of including grandparents. The problem for parents lies in knowing exactly what to help with and how best that help may be given.
Most schools require teachers to plan the intended learning in a systematic way. There are many methods but in general, most will have the following elements.
Teachers Assess what children know, understand or can do by collecting information about how well or badly earlier learning has progressed. They Evaluate that information to understand what the child can do, what the child is attempting, and what the child needs to do next.
Having decided what the child needs to do next, the teacher will Plan a series of learning activities and objectives. Then they will organise Teaching to provide the support necessary to help bring about the new learning, and afterwards Assess the progress made, to begin the cycle again.
The problem for parents trying to access specific information about what their child needs to do next, is that it is not commonly communicated to parents. "Practice her maths" is much less helpful than "Consolidate her capacity to multiply two digit numbers". So parents may have to focus on getting this specific information when they are able to discuss the child's reports with the teacher.  The school report will have information about the child's attainments so far, and should indicate in general terms their development needs for each curriculum area.  From those development needs it might be useful to prepare ourselves with some questions to lead us to the specific information we need in order to provide the most effective support for our child. Remember as well to write down the answers so you aren't left guessing what was said when you arrive home.
1. Which activities best motivate Janet to learn?
The answer should give a description of what enthuses your child and grabs her interest.  How is the teacher planning to use that motivation during the next term?
2. What teaching approaches have resulted in Janet making the most progress?
The answer should indicate how the teacher adapts teaching methods to suit your child, and also highlight the positives in your child's learning. If a particular approach, such as using the computer, or working practically is helpful in one area of learning, then it might be applied to other aspects that your child finds more difficult, so ask how the teacher plans to use those approaches to support those difficult areas.
3. What can we do at home to help Janet's learning?
The things you do at home are vital supports.  These might be as simple as reading together every night or general help with homework, but your input should also build on what she's learning at school, so –
Why does Janet do better at maths than science?
What will be the teachers major learning objectives for Janet in science this term?
How best can we support you in helping Janet achieve those objectives?
4.  What has been Janet's greatest success this term?
The answer means you can give her some positive feedback, which will bolster self-esteem and open an avenue of communication about her achievements.
How is the teacher intending to build on Janet's success and how can we support that at home?
5.  What is the biggest challenge facing Janet this term?
Whether it's SATs, paying more attention in class, or practicing more often, knowing what challenge your child will face allows you to be supportive.
What is the teacher doing to prepare Janet?What should we do to help?
6.  How can we keep in touch about Janet's progress?
A 10-minute parent-teacher consultation is insufficient to update you about all that's happening, so ask the teacher how you can keep each other informed, whether that's with regular chats after school, written notes, emails or texted updates. This fosters a commitment on both sides to helping your child do their best.
7.  Do it with Janet!
If you and the teacher do agree ways that you can help your child, be sure to follow them through. Many children respond well to set targets, and learning to meet deadlines is important for children.  Rewards can also be an incentive, used with discretion, since what children really need to learn is that there exists an amazing world of knowledge, skills and understanding which they can explore!