A child's life is a complicated social and educational phenomenon. Life is not child's play for them. Like we have problems at work, our sons and daughters have theirs at school. Normally, children are quite capable of sorting out these problems themselves or with the help of their teachers and we, as parents, don't need to worry or do anything about it. Sometimes though – our involvement is crucial.
Parents may consider getting involved if their child:
Makes a regular fuss about going to school
Is reluctant to leave you at the school line up
Doesn't want to go to school on a particular day (it may be a specific day of the week or a day when you know they have a maths or spelling test. Often these tests occur weekly from year 2, however it can be earlier depending on which school they attend.)
Has a consistent problem for 2/3 weeks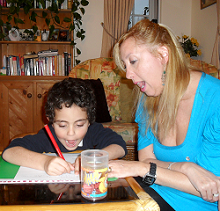 Don't wait until Parents Evening.
Make an appointment to see the teacher, discuss your concerns. Try to make an appointment without your child's knowledge, as they often resist your doing so, especially when they get older.
Ask to see your child's school books, samples of work in class – does the teacher have a concern?
Find out how you can work together with the teacher. Schools may have different ways of teaching than you use at home. If that's the case your child may be confused. Find out how best to reinforce the school's method at home or discuss what can be changed in your teacher's approach.
If your child has a continual problem ask for some extra help, 1:1 if at all possible
Keep an open dialogue with the school. If there is no improvement, seek extra help or expert advice.
Now and again parents may need a professional advice, children may require some extra help when conquering the milestones of education, or may benefit from a pre-school educational assessment.
If you think you and your child can do with a bit of extra help, please contact Sara Murawa from Parent Concern, who runs one to one sessions with children 3-9 years old.
Sara also specialises in helping children who have additional needs, working with SENCO and other experts.
Sessions are ½ to one hour once a week.
Sara is available 9am – 6pm during the week and Sunday mornings.
Telephone: 0161 291 1188 or 07939108682
Email: parentconcern@ntlworld.com or visit parentconcern.co.uk