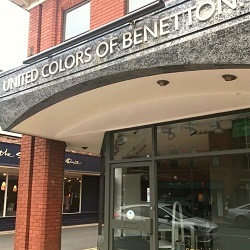 Benetton is set to bring a splash of colour to Wilmslow this weekend as the Italian fashion brand re-opens its Water Lane store on Saturday, 11th November 2017.
The standalone children's store will unveil the latest Benetton collection when it opens this weekend and there will be free goody bags for the first 25 customers, some of which will include a £40 gift card to spend in store.
Customers can also benefit from 20 percent off their first purchase at the new store and there will be face painting and balloons for young shoppers on opening day.
Director at Benetton Wilmslow, Clare Vaughan, said: "There will be lots of fun in store on Saturday as we unveil the new Benetton collection and we can't wait to welcome our first customers.
"We are thrilled to be bringing Benetton back to Wilmslow and I would like to invite local families along to enjoy the opening celebrations this weekend."
Benetton Wilmslow will brighten up any youngster's wardrobe with its stylish new collection, which includes everything from colourful jumpers, winter coats and jackets to cosy hats, gloves and scarves.
Benetton Wilmslow will be open from 9.30am – 5pm Monday – Saturday.
To keep up to date on the latest news and offers from Benetton Wilmslow, like United Colors of Benetton Wilmslow on Facebook and follow @BenettonWilmsl on Twitter and Instagram.