Everyone has their own ideas about how they want to decorate their house for Christmas. For me, it's all about plenty of sparkle and decorations that have a story to tell. It suits my eclectic style and each year I like to add a bit more! Also, giving a friend or colleague the Christmas gift of something gorgeous to hang on their tree makes for a lovely thoughtful present.
Here is a guide to some of our favourite decorations this year, which will hopefully suit everyone's style and budget.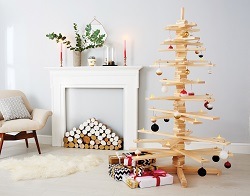 If you love all things Skandi, and let's be honest there are a lot of us, then take a look at this unique and rather gorgeous tree from Not on the High Street. It comes in three different sizes starting at £149.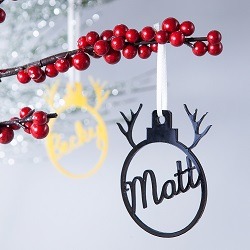 These personalised reindeer decorations by Clouds and Currents for just £7 look great and would also make a lovely gift. Also from Not on the High Street.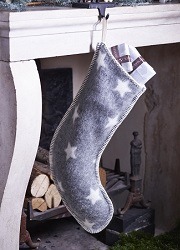 Or how about this gorgeous warm grey wool Christmas Stocking to hang by your fireplace (psst there are also matching cushions and throw – sooo tempting!). £30 from Cox and Cox.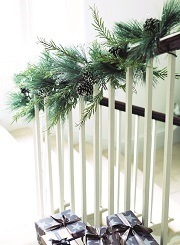 If you prefer a more classic look then how about winding this elegant garland up your staircase. If, like me, you can never have enough sparkle then try weaving some fairly lights through it. Available from Cox and Cox for £25.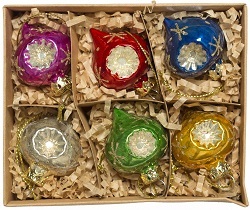 Or how about these beautiful vintage glass baubles from the National Trust Shop – at just £10 for six they will look great hanging on the tree.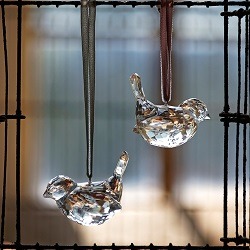 Add a couple of these Crystal Bird decorations to catch the light and the tree will look just magical (also from the National Trust Shop).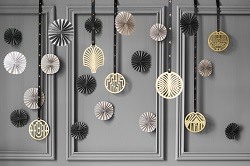 For those of you who love Art Deco, look no further than these understated but totally opulent tree decorations etched from brass sheeting from LuxDeco. These would also look great hung from door handles, windows and fireplaces.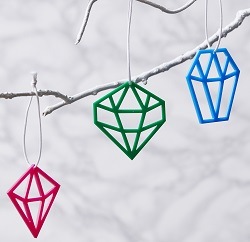 If you don't do traditional and want something super contemporary to suit your house then how about these colourful geometric decorations at £3.25 each available from Not on the High Street.
If you are considering updating your house we would be delighted to help. We offer a consultancy based design service charged by the hour. We will come to you with a stash of samples and help you make those tricky decisions. In addition we would be happy to offer M&D readers a 25% discount on their first hour of consultation. Full details of our company can be found on our website at
www.nestinteriordesign.co.uk
and we can be reached by telephone on 0161 4140032 or email on
enquiries@nestinteriordesign.co.uk