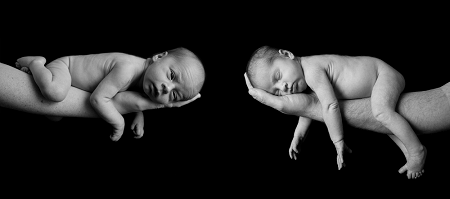 Many people decide to book a professional photoshoot for the first precious weeks when they bring their baby home. But how safe is it?
Seeing a picture of a baby holding his head between his hands or hanging on daddy's arm could bring up a lot of questions. Aren't they too young to hold up their heads? What if dad drops the baby or bangs the baby's head?
Fear not, if you are with a professional photographer who is used to working with newborns – babies are never put at any risk. We just create wonderful illusions.
Here are two examples.
     The photo of the baby twins resting their heads between their hands was made using 4 photos: 2 per baby. Each baby was photographed twice: the first time, mum was holding the baby's hands and chin and the second – the top of the baby's head. Then each part of the shot was assembled on the computer and the pictures of both babies were merged in a montage to create the perfect photo.
     Isn't it a bit scary, when the baby seems to rest on daddy's arm high above the floor? In fact the daddy is kneeling to lift the baby just a few inches above a bean bag. Any unwanted details are carefully removed later.
If you would like to find out about Thomas Demol's newborn photography, please visit www.thomasdemol.co.uk, or email newborn@thomasdemol.co.uk or call 07947 391 758. Ideally, contact before your due date.