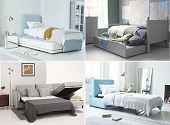 As we start to think about Christmas and all the excitement of this wonderful time of year, a common theme for many of us will be '…but where will we put everybody'?! A few mismatched chairs and the garden table plus tablecloth can often solve the problem of a few extra people for dinner. The big question is how to house the overnight guests without having to play musical beds with the whole family.
Fortunately, we have a few options for you to suit all styles and budgets and to help keep stress levels low all year around. Often, sofa beds perform neither
function well due to firm cushions, thin mattresses and clunky mechanisms. Avoid these and opt for one of the new breed, well-crafted and stylish to boot.
For compact spaces, the Bed in a Bun from Loaf is nothing short of genius. At less than a square metre as a footstool and folding out into a handy single bed complete with headboard, this is ideal for any lounge or bedroom.

If you are lucky enough to have a lounge or den with space for a corner sofa then it could make sense to upgrade to a sofa bed version, perfect for those without a spare room. The Milner or Bari models from made.com (Bari sofa on the photo) transform into a double bed and also house a storage compartment for bedding, making extra guests a doddle.
Children's rooms are always an ideal space to tuck away a spare bed for those impromptu sleepovers, but also for Christmas time when the children invariably want to bundle in together. Trundle beds are ideal for this, tucked away neatly to allow more floor space when not in use but quickly pulled out when required.

Try the Friends bed from Loaf (right) for an upholstered version or the Fargo bed from Little Folks (left) for a wooden version in white, grey or blue.
If all else fails and you are short of time, keep a Bed in a Bag (Image) stashed in the wardrobe for emergency situations, a futon mattress in a storage bag, ready to roll out.
At nest we work on a variety of projects and we charge by the hour so you can enjoy exactly the required amount of input from us. We can both recommend all relevant contractors and work collaboratively with you to ensure your new space is tailored to your requirements. Just get in touch for an initial chat and quote M&D Winter for 10% off initial consultation fees.
enquiries@nestinteriordesign.co.uk | 0161 414 0032 | www.nestinteriordesign.co.uk