For most families, the long summer holidays will have provided a welcome relief from the manic post-school routine of tea, schoolwork, bath & bed. Not having to squeeze homework into those precious few hours is one less task to factor in, one less stress.
School pupils in the UK get more work than anywhere else in Europe according to the OECD International Think Tank (BBC Education News, December 2014)
Whilst we can't magic up more hours in the day, we can offer design ideas on how to create a great kids study place. Furniture designed for children has traditionally been clunky and/or garish, creating a bit of an eyesore in the corner of the room. Recently though, designers and suppliers have sought to create


smart and multi-functional furniture which is as good looking as it is practical. Here's our edit:
MADE have a brilliant range of 'mini-me' furniture that you will be more than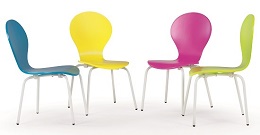 happy to dedicate house space to. The Mini Stroller Desk has the same sleek and Scandi look as the adult version but with a fun pop of colour, also in White/Oak if neutral is more your thing. Ideal for 10-13 year olds, matching bench available, or team it with a colour clashing Mini Kitsch chair to liven up homework time.
Give them a fun nudge in the right direction with this Broadway table lamp (MADE) or double up on function with the Book Rest Lamp (SUCK UK).
We often recommend painting up an area behind the desk with magnetic blackboard paint for reminders and 'To Do' lists, team with fun magnets for timetables, party invites and memos. Finally, make sure there's no excuse for their desk not to be kept tidy with some quirky storage solutions from Great Little Trading Co and SUCK UK.
At
nest interior design
we offer a friendly and informal service from one room to a full-house project, our one hour initial consultation is free of charge. We would be delighted to offer M&D readers a 10% discount on design board services, please just quote M&D Autumn when contacting us.
www.nestinteriordesign.co.uk
enquiries@nestinteriordesign.co.uk 0161 414 0032