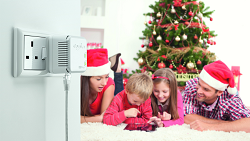 Christmas 2013 is set to be tech focused. For the first time in more than six years, Microsoft and Sony will release new gaming consoles in time for the festive shopping season. Tablets are also top of the tree with last year's hike in sales, fueled by iPad, Google Nexus 6 and Kindle Fire HD, set to be eclipsed as prices lower and the number of brands and updated models being released increase as we head toward December. Even Tesco and Argos are getting in on the act with their low cost tablets going up against the established players.
Other tech on wish lists across the UK includes smart TVs, mobile phones, Furby Boom and wireless music systems.
All of this technology means that households need to be tech ready. Long gone are the days when parents make last minute trips to the garage to stock up on batteries: today's products demand fast broadband connections and widespread wi-fi access.
So how can homes get ready to welcome the influx of new gadgets this festive season? Here are our top tips:
Prepare for rough handling. Everyone gets excited with new gadgets. They are shiny, sleek and free from fingerprints. Keep them smudge and crack free with protective accessories
Check your broadband speeds are up to scratch, so you don't get stuttering films or long waits when downloading content
Don't get caught out by not having a big enough data allowance to cope with all of the streaming and downloading you will be doing from your new devices. Know your limits and upgrade your package if you need to, especially if you have lots of visitors over the Christmas period
Research some family friendly games so you do spend some time together. You can get tablet editions of family favourite board games like Trivial Pursuit and Jenga
Make sure your home's wi-fi coverage reaches every spot with a handy gadget that strengthens and extends wi-fi range throughout your home. We recommend the devolo dLAN® 500 WiFi Network Kit which simply plugs into power sockets. Adding a Powerline kit like this will also give you access to parental controls and the ability to set up guest accounts on your wi-fi network this Christmas