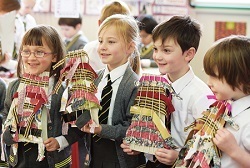 Pupils at Stockport Grammar Junior School have been unleashing their creative sides to produce an array of awesome artwork.
After reading Cinderella in class, Year Two pupils made their own version of Cinderella's skirt by weaving strips of material through their homemade looms.
Visiting artist Penny Aspinall held sessions with Year Four pupils during which they learned how to sketch their designs in pencil before tracing them onto sheets of clear plastic with a marker pen. They then used different types of thread to stitch over their patterns to give them texture. When the designs were complete, pupils put another sheet of plastic on top and sealed the edges to complete their project.
Educational theatre company Artful Playground paid a visit to help pupils explore their musical sides. The group use music, dance and drama to help boost pupils' confidence and increase their social interaction skills. Accompaniment from an accordion, soprano saxophone and bass guitar helped bring a selection of fairy tales to life.
Reception pupils invited some very special guests into school to help them with an exciting art project. The children welcomed their grandparents who were tasked with rolling up their sleeves and getting their hands dirty to help produce an array of artwork. Working together, the families made colourful paint handprints on canvas before decorating them with glitter and writing their names on to create a treasured keepsake as a memento of their special day.