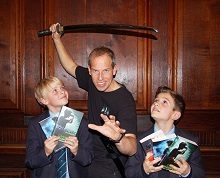 Manchester Grammar School (MGS) pupils were treated to a thrilling and unusual English lesson recently, thanks to award winning author Chris Bradford. Chris, a qualified professional bodyguard and trained martial arts expert, has enjoyed international success with his popular series including 'Bodyguard', 'Young Samurai' and 'Ninja' books. He visited the school to deliver an exciting and engaging performance for Year 7 MGS boys.
Pupils including Will Darling and Matthew Jackson (pictured) were given the interactive opportunity to learn the various tools of Chris' trade, including using water guns, secret cameras and a samurai sword. He read extracts from his 'Bodyguard' and 'Young Samurai' books and used every opportunity to get the boys up on stage and involved in the stories.
MGS pupil Will Darling said: "This was such an incredible experience. It was exciting, exhilarating and a great deal of fun to see the books brought to life. It made me appreciate how much research and preparation goes into writing a book."
Chris has written 15 fiction books to date, which have been published in more than 20 languages. He has been nominated for over 29 book awards, and has won the Northern Ireland Book Awards 2011 and the Brilliant Book Award 2014. In addition to the books he writes for teenagers, he has also written five non-fiction books on songwriting and the music business.
Susan James, Head of Lower School at MGS, added: "The sound of laughter echoing down the hallway really demonstrated how much enjoyment the boys got from Chris' visit. We thank him for his time and look forward to seeing his inspiration in the boys' writing."