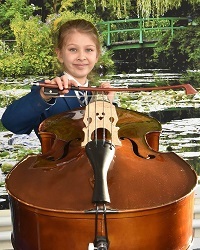 Brilliant Bollington young double bass player Olivia MacKenzie has been selected for the prestigious Under 10 National Children's Orchestra of Great Britain.
The 9-year-old King's Junior pupil joins the renowned national orchestra after success in regional auditions. She has also won their Training Orchestra's 'Most Improved Performer of the Year Award.'
As a full member Olivia also has local membership to the Northern Regional Orchestra and will attend a Summer residential course culminating in a gala concert with further regional monthly rehearsals at the Royal Northern College of Music leading to a second concert at the end of the year.
Olivia says she likes the Double Bass because "you can play slow music which has real feeling and although many people think there are only a few melodies written for double bass, there are actually thousands."
She has played the Double Bass since the age of 7 when her Strings teacher in Berkshire encouraged her to try the Double Bass. Since moving to Cheshire, Olivia is taught by Gemma Ashcroft and attends The Royal Northern College of Music 'Young Basses'. She also charms parents and pupils in the String Ensemble at King's Infant & Junior Division.
King's Head of Music in the Juniors, Alison Lea, said: "The NCO provides a world class foundation in orchestral performance and musicianship to talented children in the UK aged between 7 and 14 years and ensures all children have an opportunity to access the life-changing opportunities. Olivia's selection is a wonderful accolade for such a hard-working and naturally talented young musician."
Olivia said: "When I grow up I want to be in the National Youth Orchestra, that would be even better, but for now I just want to do my very best for the Children's Orchestra," adding, "my friends all think it's really cool."