With Olympic Games fast approaching, The Ryleys is proudly celebrating their sporting success in swimming, after two pupils reached the finals of a national event.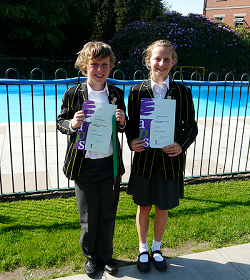 Brother-and-sister, Huw and Charlotte, from Prestbury, both made it through to compete against the best young swimmers from across the country at the Independent Association of Prep Schools (IAPS) National Swimming Championships, held in Crawley in May.
Huw won Gold in the 25m Butterfly, becoming the fastest in his Under 10 age group in the country. Charlotte came 12th in the 50m Freestyle for the Under 11s, which is also a fantastic achievement.
Pat Barrett, Headmaster at The Ryleys said "Huw and Charlotte have done fantastically well. We are all very proud of them."