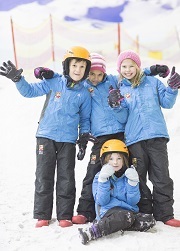 Chill Factore launches an exciting summer internship for three lucky children to join its Panel of Fun and show grown-ups who's really boss!
Looking for something fantastically fun and seriously cool to do this summer? Leading leisure destination, Chill Factore, is currently on the lookout for three extremely enthusiastic and creative children who are experts in fun to join its exciting new Panel of Fun and design a new family ride.
Chill Factore is inviting kids from across the UK to take part in its quest to find three new CEO's (Chief Entertainment Officers) to join its all-important Panel of Fun. Essential duties will include checking the fluffiness of snow and testing the rides, just to make sure they're as fun as fun can be.
The three successful candidates will also be a crucial element in creating Chill Factore's brand-new ride to add to its adrenaline filled Snow Park, where kids can brave the Downhill Donuts and Luge Slip 'N' Slide or even race each either on the Snow Luge and Sledge 'O' Mania.
Morwenna Angove, CEO at Chill Factore, explains: "This is hands down the coolest way to spend your summer, quite literally. Our Panel of Fun will be tasked with having as much fun as physically possible, a value at the very heart of the Chill Factore experience.
"As a special member of the Chill Factore team, you'll join our highly skilled snow professionals to research and recommend a brand-new ride for the Snow Park to guarantee more fun than ever before to guests visiting Chill Factore – big and small!"
Entries for Chill Factore's Panel of Fun are now open. For a chance to win this once in a lifetime opportunity, children must explain why Chill Factore should select them as a Chief Entertainment Officer, by emailing Chillfactore@hatchpr.co.uk. The more detailed, interesting and inspiring the profile of the child, the more chance they have of being selected to be in the top three. Children have until the 23rd June 2017 to shout about why they are worthy of being selected.
Terms and conditions apply – please visit
www.chillfactore.com
for information on whether you are eligible to apply.