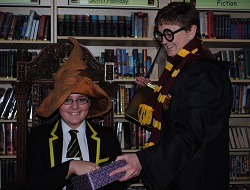 Stockport Grammar School Library hosted their own Harry Potter Night for pupils across the school – joining in Bloomsbury Publishing's first ever global event celebrating the hugely popular series.
After stepping through Platform 9¾, Harry Potter fans found themselves in a magically transformed, candlelit library. The Sorting Hat placed the pupils into their houses and they chatted excitedly amongst themselves about who might be the biggest Harry Potter expert among them. As they listened to an extract from Harry Potter and The Philosopher's Stone the tone was set for an evening of wizardry…
The four house teams – Gryffindor, Hufflepuff, Ravenclaw and Slytherin searched for objects from the wizarding world in a treasure hunt and wand-duelled their way through a game of Petrified Potters (aka musical statues!) before feasting on 'butter beer', 'pumpkin' juice, pasties, treacle tarts, 'Bertie Bots Every Flavour Beans' and chocolate frogs. A wizard drawing contest and trivia quiz tested everybody's knowledge and saw the houses ardently competing for the most points, with Ravenclaw steaming ahead to become the victors of the evening.
With the Junior School's Year 5 and 6 classes also experiencing the fun the following day, teacher Mrs Joan Mercer said: "A huge thank you to the library for the Harry Potter party – the children from my class absolutely loved it. They returned completely fired up by the whole event and haven't stopped talking about it all afternoon!"
This event was just one of many hosted by the library throughout the school year. Poet John Hegley had visited the week before, and earlier in the year the school had welcomed author Nick Brown.