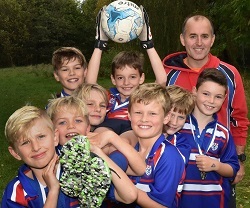 King's Junior Department footballers earned a place in the Macclesfield & District U11 Football cup final, after their goalkeeper Jamie Williams produced a number of incredible saves.
The King's team progressed to play a strong Rainow side in the final, thanks to the athletic goalkeeper who produced one of the saves of the tournament in the semi-final against Marlborough in a tense penalty shoot-out, diving low and to his left to claw out a strong shot.
King's earned their place in the final after a 6 – 0 win over Bollinbrook, a 5 – 0 win over Dean Valley and a 1 – 0 over Upton Priory courtesy of a clinical strike from tournament top scorer and pocket dynamo Oliver Hufton.
More than half the King's team members are a year young for their age group, only in Year 5 rather than Year 6, and are indebted to the playmaking talents and tight control of Christian Smith and Callum Richardson with the mercurial creativity of Joey Richardson and Max Wilson on the flanks and the redoubtable tough defenders Zac Farrer and Isaac Hughes setting the example at the back.
King's teacher and football Coach Mike Walton said: "This is a very young side with massive potential and a wonderful team spirit. Congratulations go to Rainow who beat us in another shoot out in the final."