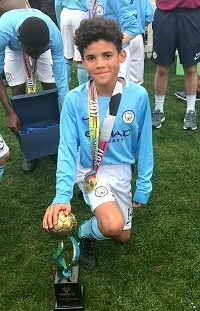 A YOUNG footballing hotshot helped Manchester City FC's Under-12s team to become officially the best team in the world.
Isaac Okeregha, 11, a Year 6 pupil at The Manchester Grammar School, flew out to America just before Christmas to be part of Manchester City FC's Under-12s squad.
The team competed in the inaugural Prospects Cup, held in Florida, featuring 16, eight American teams and eight international of the world's best sides at that age. This is the only tournament of its kind for that age group – which is aiming to be the "Little League World Series" of football.
And Isaac, who has been on the books of Manchester City FC since March 2017, helped the team lift the trophy, with impressive wins against Real Madrid, Borussia Dortmund and Brazilian side Fluminese en-route to the final, before a 3-0 victory against US side Weston Soccer Club in the final saw City crowned champions.
Isaac, who plays on the right side of midfield, said: "It was a fantastic opportunity and experience to play against some of the best Under-12 teams in the world"
Andrew Bird, Head of Junior School PE and Games at The Manchester Grammar School, said: "Isaac has been working hard on and off the field, and he was recently selected as a Sports Captain at MGS.
"I have no doubt this experience will inspire him and his school mates in 2018. We look forward to monitoring Isaac and all the other boys involved in elite level clubs across a variety of sports over the course of the year."