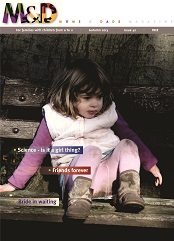 The time of summer chaos and pleasures is over. Days are getting shorter and whether we like it or not, more organised. Interestingly, according to an American study 76% of parents with school aged children are happy to get their households back to a fixed schedule and routine when back-to-school time rolls around.
If you like structure in your life you may want to check carefully all the information in our education section and Events Watch. School Open Days is one of the main topics this time of the year and hopefully M&D will be able to help you with planning as many school visits as you think you need to make the big decision.
Don't forget that life is still full of fun despite the busy school-work routine and shorter, more rainy days. Check our Activities and Events pages for suggestions on how to find a good after school activity for your children or spend your weekends, birthdays and Halloween parties.