Parent power has helped The King's School open a stunning new adventure playground for its juniors, as well as new sports facilities designed to help the netball, tennis and cricket stars of the future.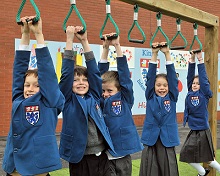 Thanks to fundraising efforts spearheaded by King's parents, the school has unveiled a fantastic new adventure playground which has already been put to good use by the children. This wonderful new facility will provide year-round excitement for King's juniors.
The new sports facilities include a hard court surface which accommodates six tennis courts and four netball courts, plus cricket nets for the batting and bowling champions of the future.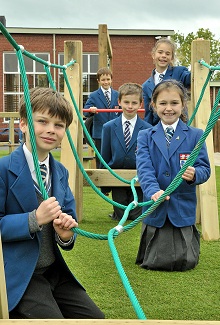 King's parents Melanie Toms and Jane Garnett led the fundraising efforts which successfully raised £40,000 toward the cost of the new facilities. Melanie said: "We started to raise funds three years ago and it is fantastic to finally see the children enjoying the new facilities."
King's Headmaster Dr. Simon Hyde said: "One of the characteristics of a good school is the strong bond between home and school and King's is very lucky to have such a supportive and constructive parent body. Together with our parents, we have realised a long-held ambition of improving our all-weather sports and playground facilities."