Richard Howarth of Oldham, a former pupil of Stockport Grammar School was chosen to be a torchbearer in Westhoughton, Bolton on day 14 of Olympic Torch Relay after being nominated for the honour by current Stockport Grammar Junior School teacher Mrs Debbie Flint.
Richard, who is blind, was an inspiration to pupils and staff at Stockport Grammar, taking part in residential trips, completing his bronze Duke of Edinburgh's award, sitting music exams in singing and the flute, and performing in productions of The Wizard of Oz , Fiddler on the Roof and Les Misérables.
Mrs Flint, Richard's support teacher while he was at the school, explained why she thinks Richard deserves this honour: "For the last 5 years as a senior pupil, Richard ran the 1500 metres with a sighted guide at sports day, representing his house. Again an inspiration to all, it was wonderful to hear his fellow pupils cheer him up the home straight. This run will take place without him this year so when I heard the launch of the flame relay I could think of no more worthy young man".
When Richard was officially named as one of the olympic torch bearers he couldn't believe it. He twitted: "Olympic torch bearer!! Go me!!.. So excited!! Come down and see me…"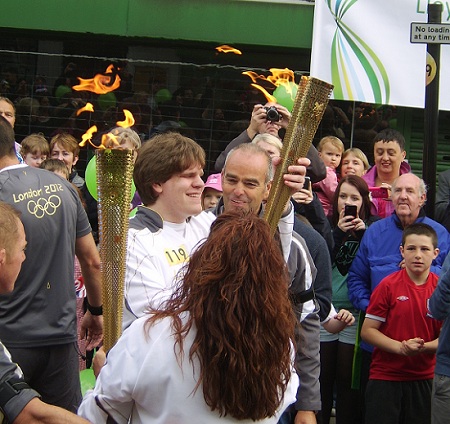 Since leaving Stockport Grammar with 7 GCSEs, including 5 at A* and A grade, Richard has been studying towards qualifications in ICT and sound recording and editing at the Royal National College for the Blind and is currently interning at the RNIB's Insight Radio in London. Now he is preparing to start a one-year foundation course in law at Coventry University College in September. In what have been a busy few months for Richard, he has also travelled to Florida to complete a course in using text-to-speech computer software, released a single on iTunes under the name Xprki, joined the Saddleworth male voice choir and sang in a 50th anniversary Songs of Praise broadcast on 10th June. Richard also plans to release an unofficial Paralympic single in July.