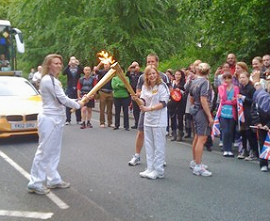 On the early morning of 1st of June, day 14 of the Olympic Torch Relay,  starting just before 6.30, former Withington Girls' school pupil Sasha Carter proudly carried the Olympic flame for 300 metres along Chorley New Road in Bolton.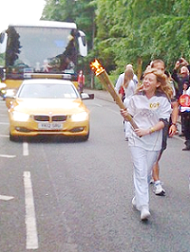 "Happy birthday!" cheered the crowd who gathered there in spite of the early hour to see Sasha run in her special white and gold outfit. For on this particular day Sasha was celebrating her 19th birthday and the Olympic flame provided her with the ultimate birthday candle.
Mrs Mhairi Ferrol, the School's Head of PE, who was there to cheer Sasha, said that "it was one of the most emotional events I have ever seen." She added: "and to have one of our ex-pupils actually carrying the torch was just amazing."
Before being handed the torch, Sasha said: "I'm just blown away with such a great honour and very excited right now – it's a once-in-a-lifetime thing."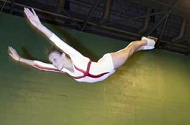 Sasha Carter, now studying Medicine at Leeds University, was nominated through the Lloyds TSB Local Hero programme. She is an accomplished gymnast, who started trampolining to increase her gymnastic technique, and never looked back. A member of the City of Salford Trampoline Club, she has been a member of the international team for more than six years and competed in a series of tournaments around the world. Sasha attained her best international performance while studying for her A-levels at Withington, wining Synchronised Silver at the the 2010 World Age Group Trampoline and Tumbling Competition in Metz, France. She travels regularly from Leeds to Salford to train despite the demands of her degree course.
Sasha, a member of Great Britain's international trampoline team, came very close to taking part in the London 2012 Olympics as a competitor. She was shortlisted for the Team GB squad but just missed out when the final selection was made.
Sasha's supportive family have helped her to achieve great things, allowing her to set her sights on London 2012. Her mum Angela said: "We're all incredibly proud. The progress of the torch gives us a real sense of just what a special event the Olympics are."