The East Lancashire Railway is here to help parents struggling to find something to keep the kids active and entertained throughout the school summer holidays, with the able assistance of the Railway's own Buffers the Station Cat. Offering great value, and a host of exciting activities and giveaways, it's looking to be a summer spent in steam!
Buffers the Cat will be taking charge on the Platform of Bury Bolton Street Station every Wednesday from 10.30am – 11.15am and again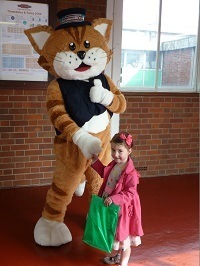 at 12pm – 1pm. There will also be a family treasure hunt as well as drop in children's craft workshops at Bury Transport Museum. That's not all, each child will receive a free goody bag containing a copy of the Kids' Club newsletter, a Kids' Club membership card and a voucher for free travel on the East Lancashire Railway!
Marketing Manager Kate Walker said: "Buffers the Cat is very excited to be spending another summer with his friends at the East Lancashire Railway, he's feeling rested and refreshed after his Spring naps and ready for adventure. We really hope that his campaign will encourage local families to broaden their horizons and perhaps explore parts of the area they never thought of visiting before!"
The
Summer Fun
kicks off on 22 July and continues every Wednesday throughout Summer, finishing on 26 August. Standard fares apply, plus an additional £1 for craft workshops. For more information please visit
www.eastlancsrailway.org.uk
.