Kiddieswinks, the entertainment experts for babies and toddlers, is celebrating its 5th birthday this year.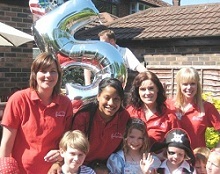 The Manchester-based company, which runs classes and parties for the under fives, was established in August 2007, by local entrepreneur Nuala Slim. The mum of three felt that there was lack of good activities for toddlers and used her experience to create a range of fun and educational classes. Kiddiewinks also provides entertainment for children's parties, christenings and family gatherings.
Since then the company has seen significant growth with weekly classes taking place throughout Manchester, Salford and Cheshire. Kiddiewinks has also been nominated for a series of industry awards since its inception.
However, as the company has grown, so have its loyal customers! Kiddiewinks owner, Nuala explains: "Many of the babies who joined our classes five years ago are now at school, but they still want the Kiddiewinks experience. So, due to popular demand by parents, we are diversifying our party offering to include parties for older children. Themes for these will include; crazy capers disco parties, street dance parties and new for 2012, Olympic Sports parties!
To find out more please visit the Kiddiewinks website: www.kiddiewinksonline.com