Mother's Day is fast approaching and children and Dads are busy making preparations for the big day. It's always nice to treat your Mum, she works hard all year to make sure her brood are loved and cared for, that they're clean, tidy, well-fed and looked after.
Maybe your Mum would like to be pampered in a spa, given a box of her favourite chocolates or get a big bunch of beautiful flowers. She'd certainly enjoy a leisurely breakfast in bed or scrumptious afternoon tea.
As a Mum, my favourite thing about Mother's Day is receiving little homemade cards and gifts made with love by tiny hands. They're lovely keepsakes to treasure over the years and can be lots of fun for children to make too.
Children love getting involved in any craft activity, the secret to success is a bit of careful planning, plenty of glue and a liberal application of glitter. It usually falls to Dad to come up with some craft ideas and see them through to fruition.
We've come up with some fun, handmade Mother's Day gift ideas which might help Dad get the ball rolling this Mother's Day.
1. Make Salt dough hand or foot prints, once they're dry get your child to paint them and decorate them. Your little one can get involved at every stage from mixing and kneading the dough, right through to making it extra beautiful for Mummy.
2. Decorate a terracotta or cardboard pot from a garden centre. Paint it, use stickers and glitter, whatever you fancy; then plant some spring bulbs in it. This is a great way to encourage their green fingers too.
3. Buy a small blank canvas from an art shop and using different coloured paints get your little one to cover it with their hand prints. Glitter optional.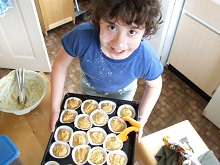 4. Get your Bake Off on, bake some biscuits or buns and decorate with icing and sprinkles. There are lots of easy cake decorating accessories in any supermarket these days and little ones love nothing more than getting involved in the kitchen.
5. Create a little photo scrapbook of special moments with mummy from the last year and write little memories of days out, birthdays and special times together.
Mother's Day crafts don't have to be difficult or time consuming. A simple but special drawing for Mum, or a homemade card are just lovely things to receive. Whatever you do this Mother's Day a hug and a thank you go a long way. Have fun!