Here is our list of Summer Holiday Camps, Clubs and Classes featured in the latest issue of M&D Magazine, with clubs running throughout the summer with various activities including arts, crafts, drama and performing arts, science and technology and sport.
If you know of any other clubs which were not published in our summer issue, don't hesitate to mention them in the comment section at the bottom of this page.
ART & CRAFT
29, 30, 31 July
Parsley Pie Kids Art & Craft Summer Workshops
Parsley Pie summer workshop creates a unique environment where kids have total freedom to be themselves! Children of all ages can chill out, get creative, be messy & have fun!
Contact Jenny Bent @ Parsley Pie HQ, in Hale, near Altrincham
Tel: 0161 904 9444  www.parsleypie.com
29 July – 3 August
Art Workshops at Withington Girls' School
Art workshops led by Mrs Samantha Joice, Acting Head of Art. The workshops will be in the School's recently refurbished Art Studios.
Contact:  0161 249 3457, willisp@withington.manchester.sch.uk, www.wgs.org
27 July, 10, 24 August10am – 11:30am and 1pm – 2:30pm
Let's Get Messy
A Messy arts and crafts session with a sensory twist! Come along and try your hand at activities such as painting, salt dough, chalk drawing, junk modelling and much, much more! (Make sure to wear clothes you don't mind getting dirty)
Suitable for Children with additional needs aged 10 and under (Siblings welcome)
The Children and Family Centre at Independent Options, Hazel Grove.
Contact: 0161 482 2536 or SJarvis@independentoptions.org.uk
DRAMA, DANCE, MUSIC
22 – 26 July
Drama Workshops at Withington Girls' School
Drama workshops with actor, theatre maker and director Fiona Paul. The workshops will be held in the School's purpose-built Drama Studio
Contact:  0161 249 3457, willisp@withington.manchester.sch.uk, www.wgs.org
22 July – 27 August
Summer holiday clubs @ Starlight Performing Arts
Performances: 22 July – Les Miserables,  5 August – Annie, 12 August – Hercules, 19 August – Matilda, 27 August – Cats.
Rehearsals and classes: 10am – 5pm.
Including aftercare:   8am – 6pm
Price: £49 (aftercare surcharge: £10)
Starlight Performing Arts
Unit 14-15 National Trading Estate, Bramhall Moor Lane, SK7 5AA
Tel: 0161 408 5052 or 07515397715   www.starlightperformingarts.co.uk
29 July – 2 August in Didsbury at Parrs Wood High School
5 – 9 August in Salford at Bridgewater School
Stagecoach Theatre Arts
~ Early Stages Workshop (4 – 7 years) – The Gruffalo
10am – 1pm. Performance 6pm on the Friday
~ Main School Workshop (8 – 18 years) – Bugsy Malone
10am – 4pm. Performance 7pm on the Friday
Contact: 0161 789 1349.  www.stagecoach.co.uk/didsbury or www.stagecoach.co.uk/salford
29 July – 2 August   10am – 3pm
Summer Splash
Spend five days exploring dance, art and media. Themed creative workshops lead up to a sharing of the work to be performed on Friday 2nd August.
For 7 – 16 years
Book early on 0161 912 5616 as places are limited!
Price: £80
Waterside Art Centre, 1 Waterside Plaza, Sale, M33 7ZF, UK
0161 912 5616
29 July – 2 August
WiSPA (Wilmslow School of Performing Arts)
Musical Theatre Summer School.  8 – 18 yrs.
Dean Row Community Centre.
Contact:  07968 770913   saljaneh@msn.com
29 July – 2 August, 5 – 9 August, 12 – 16 August 9.30am -4.30pm
Footlights
A full time holiday school. Everyone welcome aged 3yrs – 14yrs for a week of acting, singing and dance. Themes: 'Shrek tales' 'Shrek tales' 'Charlie and the Chocolate Factory' & 'Forever Glee'
St Antony's RC Catholic College
Bradfield Road
Urmston
M41 9PD
0161 713 3026; www.footlightstheatre.co.uk
SCIENCE & EDUCATION
29 July – 2 August, 5 – 8 August
SciTech: 13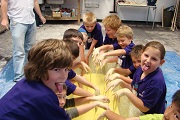 SciTech Holiday Schools offer children a special opportunity to take part in a rich variety of scientific and technological activities. The five subjects for this year's SciTech are dentistry, Structures, sound, the technology workshop and perception & illusion.
For children aged from 5 to 13. Summer classes are run in Altrincham.
Contact: 0161 903 9133 during office hours, at evenings and weekends. www.SciTech.co.uk
5– 9, 19 – 23, 26 – 30 August  9am – 12noon
Choice Home Tutoring. Entrance exam workshops
Week-long programme to help children in current year 4 and 5 looking to sit the entrance exams to Grammar and Independent schools. Provides tuition, exam paper practice and support.
Venues in Didsbury and Hale/Bowden
For more info or to reserve a place please call:  0161 434 7045 or 07527 377502
5– 9, 19 – 23, 26 – 30 August  9am – 12noon
Choice Home Tutoring. Numeracy and Literacy Blast!
Week-long fun programmes to help children in the current year 1 and 2 (possibly 3) boost their numeracy and literacy whilst off school and keep them ticking over. Qualified primary school teacher bases the week on a theme to make it interesting and fun.
Venue at Didsbury
For more info or to reserve a place please call:  0161 434 7045 or 07527 377502
SPORT & MULTI-ACTIVITIES
22 – 26 July, 29 July – 3 August
Sports Camp at Withington Girls' School
Sports Camp led by qualified tennis coach Matthew Nichols. These activities will take place on the School's superb indoor and outdoor Sports facilities.
Contact:  0161 249 3457, willisp@withington.manchester.sch.uk, www.wgs.org
22 July – 23 August
Kings Camps
Sports and holiday clubs are brought together to provide friendship, fun and exciting adventures for young people aged 4 to 17. Some camps also offer specialist programmes including cricket, dance and football, so there really is something for everyone.
Venue: Cheadle Hulme School, Manchester
Contact: 0114 263 2160 or http://www.kingscamps.org/booking/manchester-cheadle-hulme/
29 July, 6, 14, 21 August
9.30-10.15am (ages 2-3), 10.15-11am (ages 3.5 & 4) and 11.00-12.30pm (ages 5-8)
Tennis Tykes summer holiday classes for children aged 2-8
Tennis Tykes are running a number of exciting tennis classes over the summer holidays for age groups 2-3, 3.5 & 4 and 5-8 at Handforth Hall Tennis Club. Classes are 45minutes long for the classes aged 4 & under and 1.5hours long for 5-8 year olds. The cost is £6 per class (£12 per class for the longer 5-8 year old classes). A discount of 10% also applies to the total cost of the classes if you book more than one class.
Contact Caroline Buncall on 07843342662, caroline.buncall@tennistykes.co.uk, www.tennistykes.co.uk.
29 July – 23 August :   Super Camps Multi-Activity Summer-13
12 – 16  August :    A Passion For… Arts & Crafts Summer-13
William Hulme's Grammar School
"Multi-Activity" programme is ideal for children aged 4-14 who want to try a wide variety of activities.
"A Passion For…" courses offer week-long workshops for children aged 6-16 (this varies by course). Whether your children are budding artists, inventors, chefs or performers they'll love our courses where they can develop themselves, have fun and make new friends!
William Hulme's Grammar School, Spring Bridge Road, Manchester, M16 8PR
Contact: 01235 832222 or http://www.supercamps.co.uk/camps/william-hulme-s-grammar-school-2
29 July – 6 September
School Holiday Clubs
We have a variety of themed activities, groups and events running throughout the summer holidays, these include arts and crafts, sensory play, day trips out and much, much more.
All of our sessions are aimed at children with additional needs who are aged between 0 and 10 (Older siblings are also very welcome)
The Children and Family Centre at Independent Options, Hazel Grove.
Contact: 0161 482 2536 or SJarvis@independentoptions.org.uk