Point-One Tennis is a tennis coaching and activity provider operating from Poynton Tennis Club situated in the heart of the thriving town of Poynton, Cheshire. They offer holiday camps every school holiday throughout the year.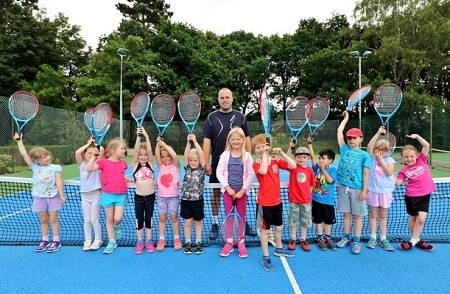 With convenient sessions available to cater around the working day, it is a great way for children to learn new things, improve their tennis skills and meet new friends. Appropriate for children aged between 5 and 12 years old it is a fun packed day of tennis with prizes and games. If your child has played tennis before then they will be appropriately challenged throughout the day. If they are new to tennis and trying it for the first time they're sure to come away with a great understanding of the basics.
Michael Atherfold Head Coach says, "We've been running holiday camps now for the past 10 years and have been very popular. The kids all seem to have a great time and generally want to continue to play on a regular basis as part of our programme after the camp finishes."
As well as holiday camps Point-One Tennis also offers a comprehensive year round programme including sessions for pre-school children, mini tennis, junior tennis and adults.
Easter Holidays
Week 1 – Monday, 3rd April to Friday, 7th April 2017
Week 2 – Tuesday, 11th April to Thursday, 13th April 2017
Whit holidays
Week 1 – Tuesday, 30th May to Friday, 2nd June 2017
Week 2 – Monday, 5th June to Friday, 9th June 2017
Daily sessions both through Easter and Whit holidays
Early drop off from 8am.
Morning sessions: 9am-12pm
Afternoon sessions: 1pm-4pm
Full day sessions: 9am-4pm
Late pick up until 5pm.
The camps are aimed at children aged between 5 and 12 years old