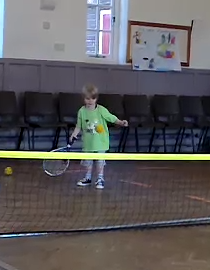 Wimbledon is in full flow and as tennis fever grips the nation, we, once again, pin our hopes on Andy Murray to bring about British success. Closer to home, across South Manchester and in Cheshire, champions of the future are starting to play tennis with the innovative Tennis Tykes coaching programme. This programme introduces the game to children as young as 2 years old and gives them the chance to achieve and to enjoy this lifetime sport.
Caroline Buncall, is the founder of Tennis Tykes and mother of her own little 4 year old tyke. She has seen the great benefits of tennis for young children and says, "The great emphasis is on fun, remembering that these are still very young children. We have fun warm ups, and discuss colours and numbers to aid their educational development. Modified mini tennis equipment (small nets, sponge balls and adapted rackets) are used and the sessions develop children's basic co-ordination skills, agility and balance and at the same time also promote social interaction, develop confidence, language and listening skills. Personal achievement is also rewarded and we build on skills achieved each week with stickers and charts for every child with suggestions for ball practise to try at home."
We've been waiting for our own Wimbledon Singles Champion since Virginia Wade in 1977 with the last Men's Singles Champion being Fred Perry in 1934. Maybe it will be Andy Murray this year (who himself started playing tennis with his Mum at 3) or hopefully in a few years time one of the Tennis Tykes will be lifting the trophy.
For further information on Tennis Tykes, please log onto www.tennistykes.co.uk or contact them on 07843342662/ caroline.buncall@tennistykes.co.uk