The Snowman has been spotted chilling out at leading visitor attraction, Chill Factore, as he headed to the UK's longest indoor real snow slope to top up his icy layers in preparation for the start of his UK tour this week.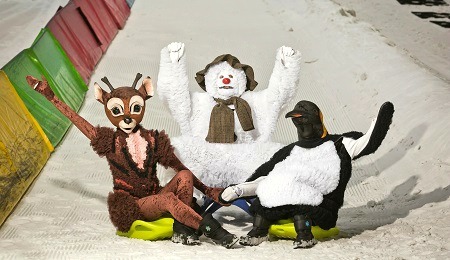 Ahead of his first performance at Manchester's Opera House on Wednesday 8th November, The Snowman took to the sub-zero climate to enjoy the thrills of the Snow Park at Chill Factore ahead of the opening night.
Visitors to Chill Factore were in for a cool surprise as The Snowman hit some high speeds on his sledge, rocketed down the Luge Slip 'n' Slide and enjoyed throwing snow balls at his fellow cast mates, reindeer and penguin.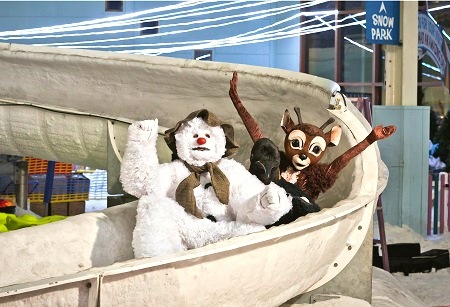 The Snowman's visit coincided with preparations for Santa's arrival to Manchester – the man himself officially opens his Grotto at Chill Factore this weekend (11th November), the only Grotto in the country which is housed on real snow. Inspired by the popular fairy-tale Hansel and Gretel, this year's Santa's Grotto at Chill Factore will take the form of a delicious gingerbread house, surrounded by sparkling trees, glistening lights and chattering elves.
The live stage show of The Snowman will bring a flurry of magic and entertainment to the North West when it opens at Manchester's Opera House from tonight until 12th November before heading out on a UK tour to Glasgow, London, Southampton, Milton Keynes and Brighton. The much-loved production, which has been touring the globe for over twenty years, transports children into the wintery wonderland of a boy and his magical snowman with a mix of enchanting dancing and live music – including the famous title song, Walking in the Air.
Morwenna Angove, CEO of Chill Factore, said: "It was a real treat to host a visit from none other than The Snowman himself who came to check on preparations for Santa's arrival at Chill Factore ahead of our Grotto opening this weekend. The sub-zero temperature felt just like home to him and we were thrilled that he took the opportunity to cool off on our slope during his trip to Manchester."
Santa's Grotto at Chill Factore will remain open every weekend for the rest of November and will open daily during December, right up until Christmas Eve. All of Santa's guests visiting the Grotto will receive a special gift on the day, as well as play time in the Snow Park or Mini Moose Land, which will really get you and your children into the festive spirit in their very own winter wonderland.