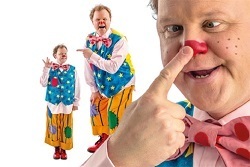 Fun for all ages at Manchester International Festival 2015! The Tale of Mr Tumble is perfect for younger children and families, showing at Manchester Opera House in mid-July. For older children, why not try wonder.land, a musical inspired by Alice in Wonderland, at the Palace Theatre in early July.
Kids' TV sensation Mr Tumble (brought to life by Justin Fletcher) comes to Manchester this July with his brand new show, The Tale of Mr Tumble. The star of Something Special, Higgledy House, Gigglebiz and Justin's House will tell the story of his life so far following his journey from bouncing baby Tumble, through his singing and dancing school days, right up to him becoming the entertainer we all know and love.
Joining Mr Tumble on this magical experience will be a choir of Makaton singing stars as well as members of Mr Tumble's friends and family including Grandpa Tumble and new character Tootsie! Bringing smiles and grins to the faces of children everywhere this show, happening at Manchester Opera House from the 13 – 18 July, is a great chance for children and their families to step inside the world of this much adored television character.
Also at Manchester International Festival is wonder.land, a new musical inspired by Lewis Carroll's Alice in Wonderland and with music by Damon Albarn at the Palace Theatre from 2 – 12 July. The musical follows Aly, a 12 year old, who tries to escape her parents and school bullies by disappearing down the rabbit hole of an online world. However, try as she might to keep them apart, her real life and wonder.land begin to collide in curious ways.
For full programme visit: mif.co.uk
The Tale of Mr Tumble at Manchester's Opera House
Tickets:

Adults £18.25 – £26.25
Children £13.25
(Includes ATG restoration levy)
Schools £8.50 / Teachers are free
Concs £5 off (Adult tickets only)

Times:

Sat 11 July 10:30am and 2pm
Sun 12 July 10:30am and 2pm
Wed 15 July10:30am (Relaxed Performance, Schools Performance)
Thu 16 July10:30am (Schools Performance) and 2pm
Fri 17 July 10:30am and 2pm
Sat 18 July 10:30am (BSL Performance) and 2pm
Sun 19 July 10:30am (Relaxed performance) and 2pm