SciTech is gearing up for another amazing summer science experience for children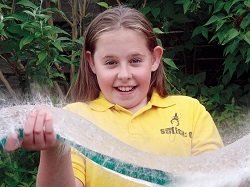 Even as Lewis Hamilton's Formula One car was being sent back to its home in Brackley following the end of SciTech: 14, planning for SciTech: 15 had already begun!
Because around 80% of the children who come to a SciTech summer school have already been to one before, the five day programme has to be different each year.
"That's not a problem for us – we are never short on ideas for amazing science experiences for the children" says Philip Rose, the founder of SciTech. "I think that like Peter Pan, I never really grew up. As I have grown older I have been able to marry my childlike imagination and enthusiasm, to my adult experience of how the world of science and technology is operated in our rapidly-progressing world of society and commerce."
Philip explains that when he communicates these ideas to the captains of industry, the enthusiasm that drives his ideas is infectious. Once assured of the care and safety of the SciTech operation, these organisations become equally keen to furnish SciTech with the equipment that is so much a part of the experience.
"Right now, as SciTech:15 approaches, our office is alive with phone calls, emails and letters. We have parents trying to secure places for their children, as well as suppliers organising themselves for summer".
So what can we expect for SciTech: 15?
SciTech had technical difficulties in securing the venue for 2015. They opened the online booking without being able to say where it was going to be. The course was over 50% subscribed before they could announce the venue. That says something about how parents value SciTech.
Mums & Dads Magazine has already revealed the programme for this year's SciTech. Time, Balance, Escape, Bodyworks and the Technology Workshop. The activities are amazing "but then again," says Philip, "So are the children we work with!" Visiting their website will not only tell what they are doing but help you understand their passion for bringing science and technology to children with enthusiasm and excitement!