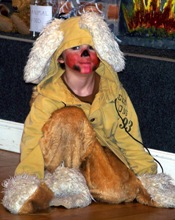 A new company for young actors has emerged on the local scene. Stargazers Performers Ltd is run by a qualified music and performing arts teacher Kathryn O'Brien from Chorlton and a dance specialist from Marple Charlotte Oldham. They work with children from 3 to 12.
"We provide a safe, friendly and relaxed environment where children can get involved in all aspects of performing arts. We aim to have fun, build self-confidence and inspire children to be creative!" explains Kathryn.
Weekly performing arts sessions take place in Chorlton and Marple and Baby Glee club is held in Cheadle. This summer Stargazers ran their first 2 holiday clubs which, they feel, were a brilliant success! Next holiday club is due in February during the half-term brake.
For more information call 07860566005 / 07966874513, email stargazersperformers@gmail.com