Need some simple and tasty ideas for a picnic or to accompany a barbecue? Think fresh, veg-packed and homemade, advises Riverford, company which delivers fresh organic fruits and vegetable to your door.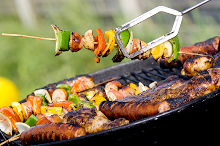 This quick, healthy but filling courgette, tomato and bean salad with basil dressing, is really simple to throw together.
Serves 4
Ingredients:
Can of cannellini or haricot beans

3 tbsp extra virgin olive oil

4 courgettes, cut into ribbons 5mm thick

a small punnet of cherry tomatoes, cut in half

sea salt and freshly ground black pepper
For the dressing:
a bunch of basil

½ garlic clove, crushed

100ml olive oil

a pinch of salt
Toss the courgettes with the remaining olive oil and grill on a ridged griddle pan (or under a hot grill) until tender and lightly charred. For the dressing, put all the ingredients in a food processor or blender and whiz until smooth. Gently mix the beans, tomatoes and courgettes together in a large bowl and add enough basil dressing to coat. Taste and adjust the seasoning.
BBQ vegetable kebabs are easy to make using chunks of all types of summer vegetables. Later on in the summer try BBQ sweet corn. It takes on a wonderfully smoky flavour. Just soak the whole cobs in water for an hour before grilling slowly for 25-45 mins until the outer leaves turn brown. The peeled-back leaves make a natural handle for holding the hot cobs.
You could watch Jane Baxtermaking this salad on YouTube:
Find more recipes for seasonal organic veg and discover how to get it delivered free to your door at www.riverford.co.uk or call 01803 762059.