Avoid supermarket stress this year let Riverford deliver all your fresh Christmas produce with a cheerful smile to your door. Offering everything from complete Christmas hampers to seasonal organic vegetables, free-range organic turkeys and characterful handmade cheeses, buttery mince pies and clotted cream, Riverford can provide all you need with a quick phone call or click of a button.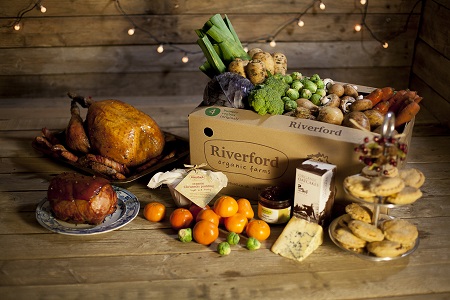 Riverford gift range is well worth a peek if you have any food lovers among your friends and family. And Riverford recipes are always special. Try something a little different with a winter twist on a summer classic this Christmas.
Recipe by Kirsty Hale
Clementine curd and cinnamon mess
This will make more curd than you need; keep the rest in the fridge (for a week) and spread on toast or muffins.
for the curd:
3-4 clementines (use firm ones)
1 tbsp lemon juice
200g caster sugar
120g unsalted butter, diced
2 large eggs, beaten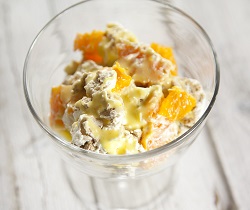 for the meringue:
2 egg whites
75g caster sugar
50g dark brown muscovado sugar
1 tsp ground cinnamon
400ml double cream
6 clementines
Zest the clementines to get 3 tbsp zest. Juice them to get 5 tbsp juice. Put the zest and juice in a heatproof bowl with the lemon juice, sugar and butter. Place over a pan of simmering water (don't let the water touch the bowl) and whisk until the butter has melted and the sugar crystals have dissolved. Add the eggs and whisk while heating, until the mixture thickens and coats the back of a wooden spoon. This may take a while. Don't overheat or it will curdle. Remove the bowl from the heat and leave to cool, then chill in an airtight container until needed. To make the meringue, whisk the egg whites to stiff peaks. Add 2 tbsp sugar with the cinnamon and whisk. Gradually add the remaining sugar, whisking until stiff and glossy. Line a tray with baking parchment. Use a pallet knife to spread over the meringue to 2-3cm thick. Bake at 110°C for 2-2½ hours, depending on your oven. Turn it off, open the door slightly and let the meringue cool slowly in the oven. Transfer to an airtight container until needed. Whisk the cream to soft peaks. Chop the clementines into small pieces. Break the meringue into small pieces and mix in a bowl with the cream and clementines. Swirl through a few spoonfuls of the curd.