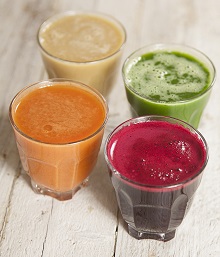 Welcome summer into your kitchen – full of tastes and colours with a bit of sunshine added to all your recipes. In fact, with a bit of help from Riverford you can enjoy the home grown goodness of many fruits and vegetables all year round.
A recent edition to Riverford services is bulk-buy juicing bags. Dave Hanlon, who delivers Riverford veg, fruit and more to families in South Manchester says, "Our farmers select all fruit and veg for flavour, and with our new bulk-buy juicing bags, you can have tasty freshly made juices without having to lug it all home from the shops, thanks to our free home delivery."
If you fancy giving juicing a try, Riverford cook Kirsty Hale has come up with some tasty recipes (you will need a juicer to make them):
green juice
Full of green goodness. It tastes fresh – add an apple if you prefer it a little sweeter.
150g curly kale
½ cucumber
½ head of broccoli (stalk & florets)
squeeze of lemon juice, to taste
Juice the kale, cucumber and broccoli, then squeeze in a little lemon juice to taste.
parsnip, pear & apple juice
Sounds weird, but parsnips are sweet, so they work well in this juice.
2 medium-large parsnips
2 pears
1 apple
beetroot & celery
Beetroot has quite a strong flavour when you juice it and needs something to dilute it – we've used celery. You could add the juice of an orange too, or a blood orange.
2 sticks celery, trimmed
1 very large or 2 medium beetroot, scrubbed, skin on, top & bottom root trimmed off
carrot, apple & ginger
Our favourite juice, by a carrot top length!
3 large carrots (350-400g), scrubbed very clean
1 apple, whole, stalk removed
10g piece fresh ginger, unpeeled
You could find more fresh juice recipes from Riverford Organic Farms here.