Don't throw away all that pumpkin you painstakingly scooped out, make some muffins. Kids can help with cooking them and definitely with eating.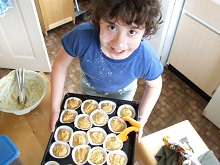 Preparation Time: 25 mins
Cooking Time: 12-15 mins
Serves: 14
Ingredients:
115g butter or margarine
175g brown sugar
115g golden syrup/honey
225g cooked and mashed pumpkin/squash
1 egg, beaten
200g plain flour, sieved
pinch of salt
1 tsp bicarbonate of soda
1½ tsp ground cinnamon
1 tsp grated nutmeg
50g currants/raisins
Instructions:
1. Preheat the oven to 200C and place 14 paper cases in a muffin tray.
2. In a large bowl cream the butter until soft. Add the sugar and golden syrup and beat until light and
fluffy.
3. Stir in the beaten eggs and pumpkin until well mixed. Sift over the flour, salt, bicarbonate of soda,
cinnamon and nutmeg. Lightly fold these ingredients into the mixture.
4. Stir in the currants or raisins and spoon the mixture into the prepared muffin cases. The cases
should each be about two thirds full of the mixture.
5. Bake in the centre of the oven for 12-15 minutes.