Whether you'd like to add a bit of colour to your casual winter dinner or surprise your Christmas guests with an unusual twist on a familiar dish, red cabbage is a winner. Recommended by Riverford, you can rest assured that these red cabbage recipes by Kirsty Hale are not only eye pleasing but also mouth-watering.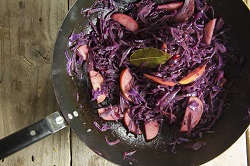 quick scandi-style red cabbage
serves 4, prep 5 mins, cook 50 mins
Many red cabbage recipes take a good couple of hours to cook. This Scandinavian inspired recipe has lots of warm spicy flavour but takes less than half the time so, as well as serving alongside cold meats. Try it with pork chops and creamy mashed potatoes with a little of our Riverford beer mustard stirred in.
1 tbsp rapeseed or sunflower oil
1 red onion, peeled & very thinly sliced
½ a large red cabbage, tough core & ribs removed, leaves finely shredded
3 juniper berries, bashed with the flat of your knife
½ tsp allspice
½ tsp caraway seeds
1 bay leaf
1 tbsp red wine vinegar
100ml red wine
2 tbsp cranberry sauce
1 good sized eating apple, cored & thinly sliced (no need to peel it)
Heat the oil in a large wide frying pan, wok or casserole, one with a lid (or you can cover the cabbage with a layer of foil instead). Add the onion and cabbage and fry for 10 mins on a low to medium heat, stirring now and then. Add the juniper, allspice, caraway, bay leaf, vinegar, wine and cranberry sauce. Season, cover and cook on a low heat for 20 mins. Add the apple and cook for a further 20 mins, stirring now and then to stop it catching. Check the seasoning before serving.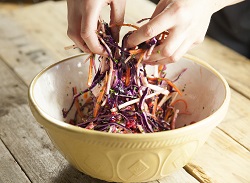 red cabbage, winter root & pomegranate slaw
serves 4, prep 10 mins, cook 0 mins
To get the seeds out of your pomegranate easily and without any bitter yellow pith, cut it in half crossways and use a rolling pin to bash each pomegranate half over a bowl, squeezing it slightly now and then so the seeds fall out. Odd bits of the pith might fall out too, but can easily be picked out.
juice from ½ a lemon
1½ tbsp pomegranate molasses (readily available in shops, or use a little honey)
1 heaped tsp dijon mustard
4 tbsp good olive oil
¼ large red cabbage, tough core & thick ribs removed, leaves finely shredded
¼ large celeriac, or ½ a small one, peeled & cut into fine matchsticks
1 large carrot, peeled & cut into fine matchsticks
1 small or ½ a large red onion, peeled & very finely sliced
2 tbsp finely chopped parsley
seeds from 1 pomegranate
Whisk the lemon juice, pomegranate molasses, mustard and olive oil together in a large bowl. Season with salt and pepper. Add the cabbage, celeriac, carrot, onion, parsley and half the pomegranate seeds. Gently toss together. Taste and add more oil, lemon juice or seasoning to your preference. Sprinkle over the remaining pomegranate seeds to serve.
For more recipes from Riverford visit www.riverford.co.uk/recipes