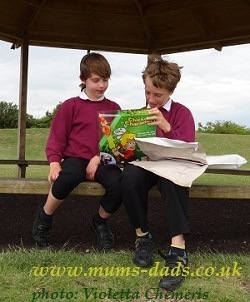 When I saw the box of Chicken Charades it reminded me of a funny chicken toy we once had from Hawkin's Bazaar. My son, being a toddler at the time, could spend hours playing with it. I hoped this game would be as much fun for him and his sister now, ten years on.
The usual thing happened – kids enthusiastically opened the box and messed around with the chicken for a good couple of hours before they moved on to playing the game by the rules. The instructions were quite clear and playing charade-like games at school helped. The only problem (for which I'm to blame of course) – we didn't have enough people in our household to form the teams. So, the rules had to be bent slightly.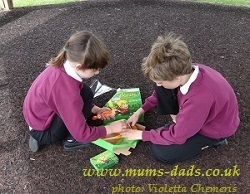 The game is what it says on the box: charades. You have to silently 'act' a word or phrase out to the other players in such a way that they can guess what it is; if the guess is wrong, you change your performance and do it again. In this version, the words come from a pack of cards so the words are not difficult (the game is for children from age 8 upwards) and children can't argue about what word to choose. There's a timer to keep the game reasonably fast. And another requirement –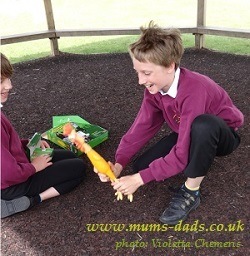 you have to use the toy chicken in your performance, which makes it more fun and sometimes easier to show words.
My two kids were really absorbed by the game for a long time and seemed to have fun playing it. Here are their comments:
Boris, 11 years old: "I really enjoyed it because it tests your acting skills and your reality skills. I would recommend it to boys and girls. I think there's nothing they need to improve on. But make sure you have 4 players, all the stuff, and read the instructions. Hope you'll have as much fun playing it as I did."
Veronica, 8 years old: "I really liked it because it's educational and fun. It can test your reaction and acting. If I had to give it to someone, I'd give it to somebody really smart and clever."
My personal observation:
– game is easily understood and doesn't require adult to organize, lead or supervise it;
-having a chicken makes it easier for children to explain/show some words from the card and when they don't play teams, they try to make their "performance" as funny as possible regardless on whether the other side will guess the word.
– it's better to have as many people as possible
– the cards have a lot of words to choose so it will be quite some time before the situation repeats itself
– the package is a bit fragile and won't survive for more than a dozen games.
I would highly recommend this game for parties or big gatherings especially of mixed age children.