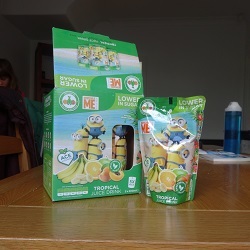 These new Minions kids' juice drinks from Appy Kids Co are not even out in the shops yet. So our readers are the first to try them! Mums&Dads asked two mums and a few children to give their opinions.



Elizabeth D. from Manchester



We are right in the start of the dreaded summer holiday period from school. Every day is dictated by the Manchester weather and our sleep pattern from the night before! It has so far been fruitful! Cinema / park picnic and a town visit for marvel figures – we even made cakes and replanted some flowers! Now from one fruitful to another – we were given the Appy Kids Co tropical juice drinks to try! You get 5 in a box and they are advertised as Healthy and Delicious drinks. Full of 8 different fruits in each pouch they can be enjoyed at room temperature, from the fridge or frozen to make an ice lolly.

Dylan loved them after an activity when he needed a good long drink – they are quite thin as they have a high percentage of water in each pouch. They are nicely packed and handy to carry round. Dylan was obviously more interested in the fact that they have a 'Minions' theme and 'Despicable Me' theme – his favourite !

To top it off it states on the box that the juice contains the vitamins of A, C and E which combine to help little ones forge a better immune system. In this crazy season of picnics and days out – they are perfect mummy tools for time out and the hydration of our little ones.


Violetta C. from Oxford



The packaging is done according to the latest trends. Nice and jolly colours and funny images of Minions (characters from "Despicable Me") on the package will definitely appeal to kids. Soft pouches are easy to carry when you go out with kids or to put in the lunch box. Pricking pouches with straws was a bit problematic not only for the kids, but for me too. On the positive side: the pouches are packed in a good quality card box, so when you shop you won't squash anything.
Since the kids liked the drink so much, I could only have a little sip. The taste was a little bit watery, which is only to be expected from a juice drink. Tropical blend, nice balance, it didn't taste like artificially added chemicals; it was just like diluted juice. Comparing it with other juice drinks I would give this one 4 out of 5.





Boris, 13 years old



I liked it because I love fruits. But different pouches have more dominant flavours: like one is more orange, or more apple and it does not taste like it is mixed together.


Veronika, 10 years old



The thing that I like about the tropical juice is that it has a really tropical taste. And that makes it very tasty. I didn't like that some packets have more and some have less of some fruits – my last one had lots of orange and the first one had more banana.


Daniel, 11 years old



It tasted of loads of fruits – green apple, banana, orange, peach and passion fruit. But I did not notice Stevia (M&D – Stevia is a natural sweetener), mango and apricot… and I don't like passion fruit. Except for that I loved everything about the juice and it tasted very sweet!