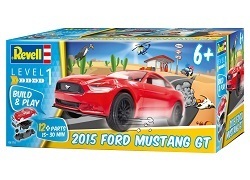 Build & Play 'Ford Mustang GT' is an entry level toy for ages 6+ or the 'Level 1' skill range according to Revell, the manufacturer. 'Ford Mustang' is one of several Level 1 model car kits designed as an easy introduction for young children into the world of modelling. The idea here is that having mastered this introductory level – easily and by themselves – the children will develop confidence and interest in modelling and as they get older progress onto the more advanced skill levels with more complex tasks (Easykits for ages 8+ and Model Kits for ages 10+).
Our son is nine. He likes cars but has never assembled a model car before, so the car parts were of no particular meaning for him. He is generally good at assembling things though, both made from scratch and various build-and-play
toys. The packaged toy looked very appealing and Daniel got really exited about assembling the car. It took him about 10 minutes to assemble it without help. His comment: 'It's a great car! It was easy to build and fun to play with'.
Dad – who encouraged assembling rather than helped with it – was very excited about the car too! Our verdict: "
'Ford Mustang' is indeed an easy and fun to build toy. It is nicely boxed with parts divided into little plastic bags so you can see what is what. The parts are very good quality and the car looks great when built. The anticipation (attractive packaging), excitement (easy and quick to build) and enjoyment when actually assembling the car are definitely there – all the right components to boost a child's confidence to assemble any models in the future.


The car looks really nice – we liked the size too! – and fun to play with. All in all, great model car, nice looking, easy to assemble, pleasure to handle, good fun in imaginative play and surprisingly durable for a model.
"