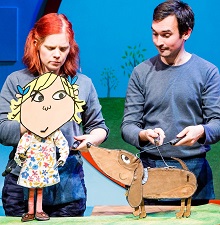 Charlie & Lola's Extremely New Play has just begun its run at the Waterside Arts Centre in Sale, Greater Manchester. The production runs until 4th January and being big Charlie & Lola fans we thought we'd check it out.
We've never been to the Waterside Arts Centre before, to be honest we didn't even know it existed, but we were really pleasantly surprised. It's in a cracking location virtually opposite the Sale Metrolink station and right next door to Sale Town Hall. Easy to find, easy to get to and there are lots of family friendly places to grab something to eat nearby.
The production is billed as a magical journey through the seasons, where Charlie and Lola discover that everything is different and not the same. A team of lively and engaging puppeteers bring Charlie, Lola and their friends to life, you do soon forget that these are just puppets.
The story itself is a lovely, secretly educational, but utterly engaging tale about the changing of the seasons. Lola doesn't like the leaves turning brown and falling from the trees. She can't wait for it to snow so she can build a snowman, but when the snow comes it's not around for long and disaster, the snowman melts. Spring comes and quickly changes into summer and all the seasonal excitement that brings.
We and the rest of the audience were delighted to be showered from above by tissue paper autumn leaves, foamy snowflakes, flying fish puppets and springtime bubbles. Technically the lighting was fantastic, in particular the snow effects drew gasps of wonder from the audience.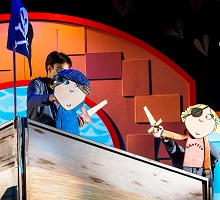 It was a brilliant afternoon out. The play itself was split into two half hour parts with an interval, which is ideal for the smaller audience members with their smaller bladders. It was just the right length and my three year old who has the attention span of something with no attention span at all was rapt throughout. He did shout out the odd word of encouragement to Charlie and Lola, but he was interested and engaged for a whole hour, which for a three year old is pretty incredible. We loved it and it too held our attention, there was no parental yawning or compulsive looking at our watches.
If you've got really little ones, Charlie & Lola's Extremely New Play is the perfect alternative to a pantomime this year. I love a good panto but for a very young audience there can be a bit too much shouting, slapstick and unfamiliar, confusing plot lines to deal with. Charlie & Lola's Extremely New Play is so much fun; it's lively, engaging and most of all perfectly entertaining.
Charlie & Lola's Extremely New Play runs until the 4th January at The Waterside Arts Centre, Sale.