Construction work is well underway on a new, purpose-built Junior School building and central 'Hub' at Withington Girls' School costing £4.3m (inclusive of fees and VAT).
The leading independent school for girls aged 7 to 18 has commissioned a state-of-the-art Junior School to be built within the grounds of Withington's existing site in Fallowfield, Manchester.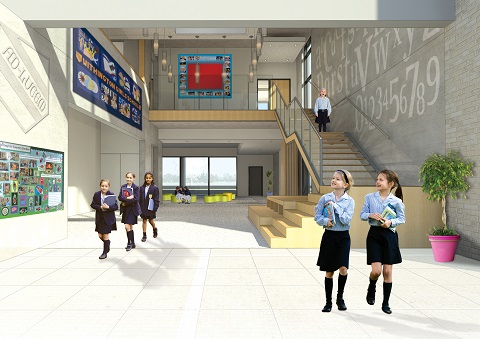 The project will deliver a new suite of classrooms for younger pupils, enabling two-form rather than single-form entry in both Years 5 and 6, and enhancing accommodation and facilities available for the whole School. There will also be a light and airy social 'Hub' with a new roofed courtyard area linking the Junior and Senior departments.
Withington's new Junior School building will be capped by an eco-friendly wildflower grass roof, and much of the preparatory work is being carried out off site to reduce disruption.
With construction due for completion in summer 2015 – Withington's 125th anniversary year – this latest investment follows a decade of improvements at the school including a new £2m Sixth Form Centre and Bistro in 2009 and a £1.2m Science development just a few years earlier. The new Junior School and 'Hub' will be the largest single development in the School's history.
The project has been designed by Manchester and London-based architects Levitt Bernstein, who have created a master plan to meet Withington's long term development strategy. Builder and developer Seddon, which delivered a £1.2 million science block for the school in 2004, has been appointed as lead contractor on the project.
Withington's Headmistress Mrs Sue Marks said: "Withington Girls' School has a heritage of vision stretching back to its foundation by a group of leading Manchester families in 1890. The new Junior School and Hub will help to ensure that Withington remains at the forefront of girls' education nationally in the way our founders intended, offering exceptional opportunities for personal development – academic, cultural, sporting and social – and encouraging independence of mind and high aspirations".
"I am delighted to announce that, from September 2015 onwards, our means-tested bursary scheme will be extended to include junior girls coming into Years 5 and 6. This will be in addition to the senior school bursary programme which currently helps around one-in-six senior girls with the fees, according to each family's needs."