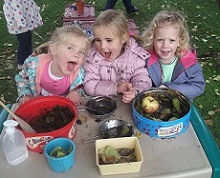 As a society we all too often deny children the opportunity to follow their inborn impulse to explore the natural world around them and our protective instinct is to keep them in an almost sterile environment and encourage the use of all sorts of antibacterial products on the market.
Research suggests that unless this changes, findings such as children with high obesity, vitamin D deficiency and low immune systems will only increase. In addition research also suggests that contact with mud produces serotonin in the body, alleviating depression, another rising issue for young children.
The Elmscot Group of nurseries in Altrincham, Cheshire, is passionate about experiential learning and enabling children to harness their natural curiosity of exploring nature using a multi-sensory and hands-on approach. They advocate that sensory play has a positive impact on children's learning and development and are keen to provide additional sensory-rich experiences outdoors. Recently they have created a 'mud kitchen' in each of their settings' outdoor play areas to further ignite children's curiosity outside.
Mud kitchens are rich in learning experiences including:
Learning rules of good hygiene
Exploring properties of mud by squelching it between your fingers or even your toes!
Enhancing imagination and role play by making mud cupcakes with flower decorations or mud stew by mixing a variety of twigs, leaves and grass with mud and water
Finding out about bugs, why not invite them for tea!
Improving understanding of numbers, space and measure
To make a mud kitchen at home you can use various items from around the house:
Make a shelf using wood and crates
Make an oven out of a large cardboard box
Gather containers from your recycling
Enhance with old pans and utensils
Remember to reinforce safety by explaining to your child that 'mud food' is not good to eat
Inevitably this provides lots of messy fun and learning therefore old or spare clothes at the ready are a good idea!